We install Rheem heating and air conditioning equipment as well as other brands.  We service all brands of HVAC equipment; no matter what brand of air conditioner, furnace or heat pump you have, our HVAC Service experts can help with all of your HVAC needs.
Preventative Maintenance Service Plan
Skradski Heating & Cooling can also provide planned maintenance programs to keep your equipment running at peak efficiency and reduce major repair costs in the future.  You can save money when your system is maintained regularly throughout the year.
The price of your contract is guaranteed! To thank our customers for the trust they place in us, we offer a 10% discount on all repairs during the life of their contract. NO OVERTIME CHARGE! For an extra added bonus, we call you to schedule your maintenance appointment – so you do not have to worry about it!  You can sit back, relax, and leave your Heating & Air Conditioning maintenance to us!
Benefits of Maintenance Programs:
Reduces Energy Costs & Increases Energy Efficiency
Improves Your System's Performance
Extends The Lifespan Of Your Equipment
Helps Prevent Costly Breakdowns & Disasters
Helps Keep Your System Compliant With Manufacturer Warranties
Improves System Safety
Skradski Heating & Cooling Service Plan includes:
Preventative Maintenance for the Spring and Fall Season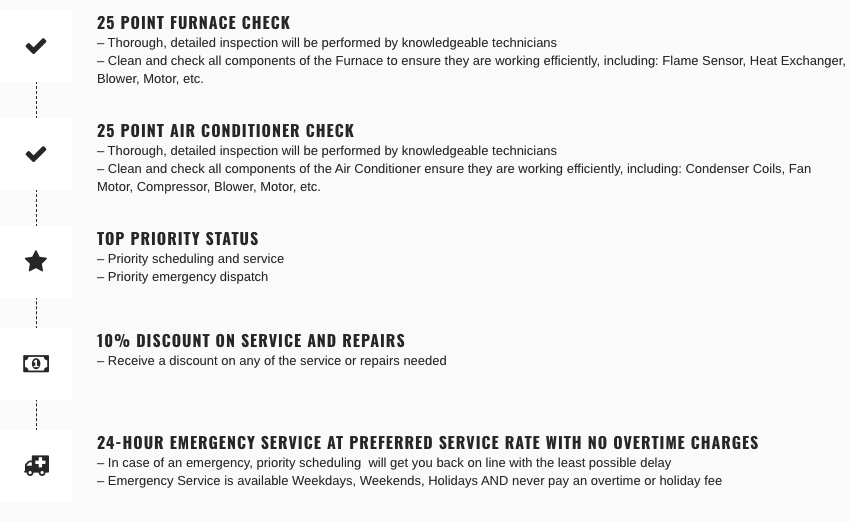 Benefits move with you – move anywhere within our service areas and continue to utilize our home comfort services in your new home
Call us today to get signed up for our Annual Service Plan!